OnPoint is always, well OnPoint! Recently they caught up with MCDE for a nice interview on the beach.
Click here to watch…
Great new Azari & III tune + video released via Scion A/V. To learn more about the Scion A/V Video series visit: scionav.com/​music/​scionavvideo
Click here to watch…
This is a live radio recording of Jonn Hawley on 88.5FM in Atlanta. from February 11th 2005. This was the night after his first time playing Connect at Lava Lounge, our 2nd Connect party. Mike Zarin was hosting Houseworks at the time and had him in studio for a live set. We are truly blessed to have met Jonn early on and we were super stoked to have him down to Atlanta for his frist time. Since then, Jonn has played Connect a number of times over the years. He's still a great friend and part of the original 4Deep family. Listen up, Jonn is still one to watch and has several big projects on the horizon.
Click here to listen/download.
Our good friend Lars Behrenroth recently took a trip through the midwest for a few gigs and stopped off for a Brunchlox Session with our favorite Chicagoan Karl Almaria.
Take a listen to the set here
Azari & III interview for Scion A/V.
Join them alongside Runaway, Blu Jemz & Rrrump for the Scion A/V Release Party at King Plow on Monday 2/14. 
Monday February 14th 2011
Scion A/V & 4Deep present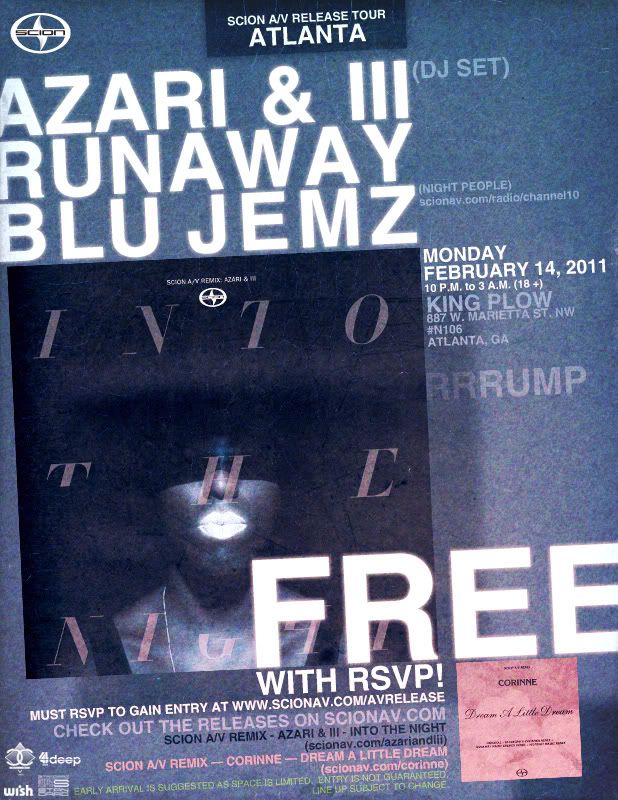 AZARI & III (DJ SET)

They're hungry, they're reckless, they're taking the world by storm with their relentless love beats and fanatical siren songs, they are Azari & III and their medium is the message - free your spirit through raw ass dance music all night long!

The mysterious duo from the northern steppes of Canada started a fire burning with the brazen Hungry For The Power, a single released last fall that is continually blowing up with fans ranging from Annie Mac to Grizzly Bear, Boys Noize to Broken Social Scene. The follow up smash, Reckless (With Your Love), is currently serving up a dose of techno soul so addictively repeatable, you gotta be cautious or you'll get hooked.

With remixes for and by the likes of Health, Munk, Booka Shade, Le Le, Bot'ox, Ali Love, Sidwo? Nacho Lovers, Mano Le Tough, Runaway, Cosmo Vitelli and Mathias Aguayo, wait, lemme catch my breath…its only been 8 months but this outfit is outputting like a sweatshop in July! Let's hope they don't so quickly disappear into the strange abyss from which they came…but somehow I think there is a grander story unfolding here.

RUNAWAY aka
Jacques Renault & Marcos Cabral

Brooklyn's Marcos Cabral & Jacques Renault have steadily been releasing dance floor burners under the Runaway pseudonym since 2007. From their introductory 12" gem "Ain't Afraid To Beg / Shadows" on Wurst, through current releases on their own On The Prowl imprint, the duo show no signs of slowing down. Over the years their output includes tracks on DFA, Rekids, I'm a Cliché, Chinatown, Aus, Wurst, Mule Musiq, Endless Flight, Play Out!, Throne Of Blood, Hell Yeah, Money Studies, Needwant, Solardisco, Crue-L, and Permanent Vacation / Service. Aside from music production, the Runaway moniker is also used for Marcos and Jacques' combined DJ sets, which they've taken the world over.

BLUE JEMZ

Blu Jemz can be found djing on East Village Radio filling in for Mark Ronson often, as well as all around New York and LA with his cohorts sTERRYo, Unemployed Lloyd and others, as well as clowning the world in a major way on his twitter. He's curated one full album ("Beat Machine") for Scion before, and several remixes for folks as well.

along with

RRRUMP

18+ | FREE with RSVP (www.scionav.com/avrelease)

Early arrival is suggested as space is limited

Sound provided by Heavyweight A/V!

Located at:
KING PLOW ARTS CENTER
887 West Marietta St NW
Atlanta, GA 30318

www.kingplowevents.com
www.scionav.com

Follow us at
www.twitter.com/4deepatl